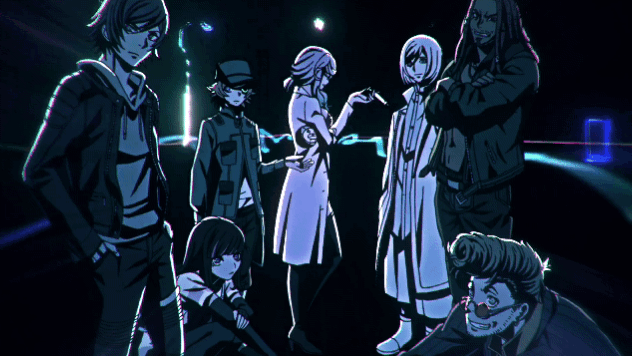 AKUDAMA DRIVE is an award winning anime title released in the Fall 2020 anime season, inspired by cyberpunk stories and action flicks such as Bladerunner and Quentin Tarantino films. This epic twelve episode heist comes from the creative team behind Dangan Ronpa. Akudama Drive won various awards including Best Screenplay, Best Sci-fi, Best Mystery, and Anime of the Year.
About Akudama Drive (via Funimation)
Many years ago, a Great Civil War ravaged Japan, leaving the country fragmented between two regions: Kansai and Kanto. In Kansai, a group of six Akudama (AKA Criminals) carry out missions given to them by a mysterious black cat, while evading the police. But a dangerous journey is about to unfold when a civilian girl becomes twisted into the Akudama's way of life and witnesses their criminal drives.

Kocha Sound provided weekly simuldub production for this title for Funimation, from December until March. All recording was done entirely remote during COVID-19, with actors all using their own equipment from home across the country. You can watch all twelve episodes now!

Cast and Crew:
Voice Over Production and Recording: Kocha Sound
ADR Director: Brittany Lauda
Assistant ADR Director: Matt Shipman
ADR Engineer: Matt Shipman
Assistant ADR Engineer: Brittany Lauda
Production Assistant: Ben Balmaceda
Line Producer: Brittany Lauda
ADR Script Adaptation: Clayton Browning, Matt Shipman
ADR Script Supervision: Tyler Walker, Matt Shipman
ADR Script Prep: Austin Sisk
Mixing and Audio Post-Production: HastePro
Additional Mix Engineer: Jose Pichinte
---
Main Cast:
Ordinary: Macy Anne Johnson
Courier: Jonah Scott
Brawler: Zeno Robinson
Hacker: Y.Chang
Hoodlum: Kellen Goff
Cutthroat: Matt Shipman
Doctor: Brittany Lauda
Brother/Black Cat: Daisy Guevara

Supporting Cast:
Sister: Laura Stahl
Pupil: Jenny Yokobori
Master: D.C. Douglas
Junior: Eddy Lee
Boss: Veronica Taylor
Shark: SungWon Cho
Bunny: Michael Kovach
Young Courier: Courtney Meeker
Professor: Kent Williams
Headmaster: Dan Green
Old Lady from Takoyaki Shop: Erica Schroeder
Dontonbori Takoyaki Clerk: Michaela A. Laws
Degenerate A: Jake Paque
Degenerate B: Brett Weaver
Degenerate C: Bryce Papenbrook
Experimental Child A: Cassie Ewulu
Experimental Child B: Ciarán Strange
Experimental Child C: Emi Lo
Female Executioner: Kristen McGuire
Male Executioner: Clifford Chapin
Protestor: Kyle Phillips
Young Girl:  Emily Neves
Police Chief: Mike Pollock
New Police Chief: Griffin Puatu
Pilot: Tom Wayland
Kansai Executive A: Imari Williams
Kansai Executive B: Sam Black
Kansai Executive C: Erica Schroder
Shinkansen Announcer: Yara Naika
Researcher: Chris Guerrero


---

Additional Voices:

Ben Balmaceda
Kevin Thelwell
Alex Mai
Jordan Dash Cruz
Brandon Winckler
Morgan Berry
Michelle Marie
Austin Tindle
Marcus Stimac
Michael Stimac
Anairis Quiñones
Cassie Ewulu
Courtney Meeker
Ciarán Strange
Emi Lo
Clifford Chapin
Michael Kovach
Erica Schroeder
Imari Williams
Sam Black
Griffin Puatu
Tom Wayland
Brittany Lauda
Madeleine Morris
Bryson Baugus
Chris Niosi
Mike Pollock
Kiba Walker
Cole Feuchter
Emily Neves
Jake Paque
Brett Weaver
Kent Williams
Chris Guerrero
---
Watch clips!