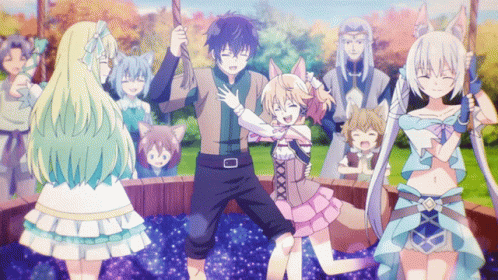 SEIREI GENSOUKI: SPIRIT CHRONICLES is the anime adaptation of the popular light novel of the same name. To celebrate the release of the anime, a crowdfunding campaign was launched in Japan that distributed limited edition merch. They ended the campaign with reaching 192% funding, over 9 million yen. A second season has been announced.
About Seirei Gensouki: Spirit Chronicles (via Crunchyroll)

His past life and current life are intersecting–a boy with memories of two lives faces his destiny! After his mother was killed at an early age, the orphaned Rio fought his hardest to survive in the slums. One day, he awakens to the memories of Haruto Amakwa, who died in an accident while dreaming of being reunited with his childhood friend, and Rio realizing he has reincarnated in a world of swords and sorcery.
Brittany Lauda, co-owner of Kocha Sound, was hired to act as casting director for this title by Iyuno-SDI. All other production was handled by the Iyuno-SDI team. Check out the released episodes here!

Cast and Crew:
Voice Over Production and Recording: Iyuno-SDI
Casting Director: Brittany Lauda
---
Main Cast:
Rio/Haruto/Zen: Kieran Regan
Young Rio/Haruto: Fionn Kinsella
Celia Claire: Madeline Dorroh
Aishia: Morgan Laure
Latifa/Endo Suzune: Julia Gu
Miharu Ayase: Sarah Williams
Supporting Cast:
Reiss Vulfe: Connor Colquhoun
Alfred Emerle: Gabe Kunda
Charles Arbor: Blythe Melin
Christina Beltrum: Madeleine Morris
Flora Beltrum: Madeleine Morris
Roanna Fontaine: Courtney Meeker
Vanessa Emerle: Caitlin Glass
Liselotte Cretia/Rikka: Jenny Yokobori
Ayame Karasuki: Stephanie Komure
Masked Man: River Kanoff
Kyokan: Cris George
Male Underlings: H.D. Quinn & Anthony Bowling
Haruto's Grandfather: H.D. Quinn
Alphonse Rodan: Kevin K Gomez
Alphonse Rodan (Young): Darcy Maguire
Phillip Beltrum: Cris George
Stewart Huguenot: Calvin Joyal
Instructor: H.D. Quinn
Gustave Huguenot: Anthony Bowling
Garcia Fontaine:H.D. Quinn
Elise Brandt: Cassie Ewulu
Male Student 3A: Matt Shipman
Male Student 3B: Cris George
Male Student 3C: River Kanoff
Minotaur: Cris George
Stewart Huguenot (Young): Caitlin Glass
Cosette: Anya Beck
Stall Owner: Cris George
Alma: Christina Costello
Dominic: River Kanoff
Dryas: Michelle Rojas
Brigade Recruit: Matt Shipman
Orphia: Jād Saxton
Sara: Anjali Kunapaneni
Syldora: Paul Guyet
Ursula: Marin Miller
Uzuma: Cassie Ewulu
Yuba: Anne Yatco
Ruri: Cia Court
Gon: Jim Foronda
Shin: Mike Haimoto
Sayo: Xanthe Huynh
Hayate Saga: Y.Chang
Dola: Ricco Fajardo
Gouki Saga: Kaiji Tang
King Homura: Jim Foronda
Queen Shizuku: Stephanie Komure
Aoi: Emi Lo
Kayoko Saga: Michelle Rojas
Komomo Saga: Jenny Yokobori
Lucius Orgueille: Matt Shipman
Male Teacher: Y. Chang
Tenasina: Meli Grant
Roland Claire: Christopher Guerrero
Helmut Arbor: Ricco Fajardo
Masato: Madeleine Morris
Aki: Emi Lo


---

Additional Voices:

Anthony Bowling
Mike Haimoto
River Kanoff
Matt Shipman
Calvin Joyal
Stephanie Komure
Anya Beck
Caitlin Glass
Jenny Yokobori
Cassie Ewulu
Christopher Guerrero
Ricco Fajardo
Meli Grant
Jād Saxton
Julia Gu
Marin Miller
Christina Costello
Sarah Williams
Cris George
H.D. Quinn
Kevin K Gomez
Darcy Maguire
Connor Colquhoun
Madeleine Morris
Katy Johnson
Gabe Kunda
Brian Hubbard
Hannah Pfeiffer
Forrest Lybarger
Emi Lo
Anne Yatco
Y. Chang
Jim Foronda