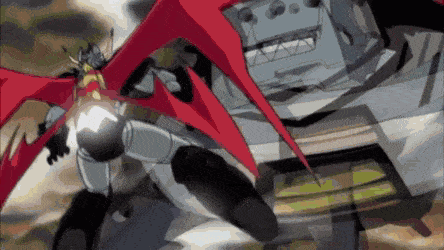 MAZINKAISER vs THE GREAT GENERAL OF DARKNESS is a 60 minute OVA alternate retelling of the 1974 film "Mazinger Z vs the Great General of Darkness". This version focuses instead of Koji and the Mazinkaiser, with loose links to the Mazinkaiser OVA series continuity as well as the manga, and was created after the success of the Mazinkaiser OVA series. Mazinger Z is an incredibly influential franchise from the prolific mangaka, Go Nagai. It essentially started the "super robot"/"mecha" genre and the concept of a pilot within the robot, and was a huge hit internationally, going on to influence Guillermo Del Toro's "Pacific Rim".
About Mazinkaiser vs The Great General of Darkness (via ANN)

A race of subterranean beasts called the "Mycenae" appear out of nowhere and indiscriminately wreak havoc all over the world. Their goal: the death of Mazinkaiser pilot Koji Kabuto. As these monstrous beings destroy cities and decimate the Mazinger Army, Koji must race against time to once again pilot Mazinkaiser and defeat the Mycenae and their feared leader The Great General of Darkness.

Most recording is done entirely remote during COVID-19, with actors all using their own equipment from home across the country. Order a copy here!
Cast and Crew:
Voice Over Production by Kocha Sound LLC
Producer: Brittany Lauda
ADR Director: Brittany Lauda
Assistant ADR Director: Matt Shipman
ADR Engineer: Matt Shipman
Assistant ADR Engineer: Brittany Lauda
ADR Script Adaptation: Christopher Niosi
ADR Script Prep: Madeleine Morris
Script Supervision: Madeleine Morris
Casting Director: Brittany Lauda
Production Assistant: Ben Balmaceda
Mixing Engineer: Rawly Pickens

---
Main Cast:
Koji Kabuto: A.J. Beckles
Sayaka Yumi: Kayli Mills
The Great General of Darkness: Kamran Nikhad
Boss: Brent Mukai
Dr. Morimori: Patrick Seitz
Supporting Cast:
Jun: Cassie Ewulu
Tetsuya: Matt Shipman
Professor Yumi: Keith Silverstein
Dr. Nossori: Ben Balmaceda
Dr. Sewashi: Charlie Campbell
Lori: Jad Saxton
Loru: Morgan Laure
Shiro Kabuto: Brittany Lauda
Shun: Alex Mai
Masao: Matthew David Rudd
Nuke: Kevin D. Thelwell
Mucha: Austin Sisk
Naojirou: Mike McFarland

Archduke Gorgon: Christopher Guerrero
Angoras: Frank Todaro
 Birdler: Ben Balmaceda
Draydou: Brook Chalmers
Hadias: Michael Sinterniklaas
Julicaesar: Jalen K. Cassell
Ligern: Meli Grant
Scarabeth: Christopher R. Sabat
Dante: Shawn Gann
Rikki: Michelle Rojas

Baruman: Mike McFarland
Gratonios: Shawn Gann
Ralgos: Charlie Campbell
Tarantas: Austin Sisk

Captain: Charlie Campbell
Mycenae Crewman: Jalen K. Cassell
European Union Army Captain: Christopher R. Sabat
Radio Broadcast: Hailey Lauda
Male Guard A: Frank Todaro
Male Guard B: Michael Sinterniklaas
Male Guard C: Keith Silverstein
Male Guard D: Kevin D. Thelwell
Man A: Austin Sisk
Mycenae Foot Soldier A: Matthew David Rudd
Mycenae Foot Soldier B: Mike McFarland
Robot: Cassie Ewulu


---

Additional Voices:

Milly Prower
Michelle Rojas
Alex Mai
Ben Balmaceda
Austin Sisk
Shawn Gann
Charlie Campbell
Kevin D. Thelwell
Hailey Lauda
Shaina Abaya