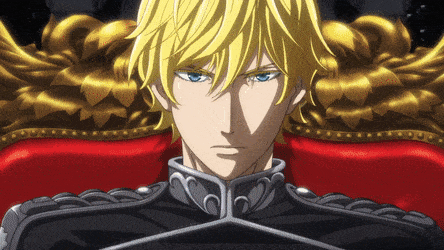 LEGEND OF THE GALACTIC HEROES: DIE NEUE THESE is a new adaptation of the critically acclaimed space opera novel series by Yoshiki Tanaka from the 1980s of the same name. There was a previous adaptation that ran from 1988 to 2000
that has garnered high praise and awards among fans and critics, often considered as 'legendary', as well as one of the
most ambitious anime adaptations ever conceived. This is the third season of this new adaptation.
About Legend of the Galactic Heroes (via ANN)

For decades, the Galactic Empire has been locked in an interstellar war with the Free Planets Alliance, a conflict that
involves thousands of spaceships and millions of soldiers on both sides. Two new commanders enter the conflict with
great hopes: Imperial Admiral Reinhard von Lohengramm and the FPA's Yang Wen-Li. As they deal with superiors
and subordinates, maneuver through complicated political arrangements, plot strategies, and win battles, each will be tested, and ultimately, changed, by the reality of war.

Okratron 5000 is working with Kocha Sound to provide weekly simuldub production for the third season of this title. Most recording is done entirely remote during COVID-19, with actors all using their own equipment from home across the country as well as utilizing the Okratron 5000 studio space in TX & LA.  Check out the released episodes here!

Cast and Crew:
Producer: Christopher Sabat
Assistant Producer: Brittany Lauda
ADR Director: Brittany Lauda
Assistant ADR Director: Rawly Pickens, Austin Sisk (Ep 4)
ADR Engineer: Rawly Pickens, Austin Sisk, Matt Shipman, Brittany Lauda (Ep 4-6)
Mix Engineer: Rawly Pickens
ADR Script: Macy Anne Johnson (Ep01-02), Matt Shipman (Ep03) & Madeleine Morris (Ep03, Ep 06), Y. Chang (04-05, 07 & beyond)
Script Supervision: Brittany Lauda, Matt Shipman (Ep03)
ADR Prep: Bryson Baugus
Casting: Kocha Sound
Talent Coordinator: Ben Balmaceda, Brittany Lauda
Production Assistant: Nazeeh Tarsha
Recorded at Okratron5000 Studios 
---
Main Cast:
Yang Wen-Li: Ian Sinclair
Reinhard von Lohengramm: Aaron Dismuke**
Narrator: Cris George
Supporting Cast:
Julian Mintz: Matt Shipman
Walter von Schönkopf: Christopher R. Sabat 
Alex Cazerne: Anthony Bowling
Dusty Attenborough: Jordan Dash Cruz
Frederica Greenhill: Madeleine Morris
Edwin Fischer: Kenny Green
Karl Gustav Kempff: Robert McCollum
Lao: Stephen Fu
Douglas Bateman: Richard Tatum
Murai: Mike McFarland
Ivan Konev: Micah Solusod
Oliver Poplin: Orion Pitts
Douglas Bateman: Richard Tatum
Eichendorff: Bill Millsap
Peter Reamer: Kevin K Gomez
Fyodor Patrichev: Jeremy Inman
Willibald Joachim von Merkatz: Mark Stoddard 
Bernhard von Schneider: Bryson Baugus
Siegfried Kircheis: Clifford Chapin
Oskar von Reuenthal: Ricco Fajardo
Wolfgang Mittermeyer: Josh Grelle
Evangelin Mittermeryer: Macy Anne Johnson
Ansbach: David Matranga
Otto von Braunschweig: Patrick Seitz
Baron Flegel: Ernesto Jason Liebrecht
Marquis Klopstock: Brent Mukai
Ehrenberg: R Bruce Elliott
Baghdash: Chris Hackney
Kasper Linz: Michael A. Zekas
Hildegard von Mariendorf: Brittany Lauda
Fritz Joseph Bittenfeld: Austin Tindle
Ernest Mecklinger: Aaron Roberts
Neidhardt Müller: Michael Sinterniklaas
Ulrich Kesler: Jonah Scott
Theodor von Rücke: A.J. Beckles
Erwin Josef von Goldenbaum II: Luci Christian
Karl Braque: Austin Lee Matthews
Eugen Richter: Michael Schwalbe
Arthur von Streit: David Wald
Rabenardt: Time Winters
Gregor von Mückenberger: Bruce DuBose
Paul von Oberstein: J. Michael Tatum
Anton Hilmer von Schaft: Frank Todaro
Anton Fellner: Brandon Winckler
Hortense Caselnes: Dorah Fine
Charlotte Caselnes: Julia Gu
Youngest Caselnes Daughter: Deneen Melody
Kempff's Wife: Natalie Van Sistine
Franz Kempff: Emily Fajardo
Isaac Kempff: McKenzie Atwood
Adrian Rubinsky: Jason Douglas
Rupert Kesserling: Y. Chang
Bishop Degsby: Todd Haberkorn
Jochen von Remscheid: Doug Jackson
Dominique St. Pierre: Janelle Lutz
Leopold Schumacher: Keith Silverstein
Alfred von Landsberg: Chris Cason
Nidhogg: Romulo Bernal
Henslow: Tony Oliver
Heinrich von Kümmel: Dallas Reid
Cornelius Lutz: Brandon McInnis
Negroponte: Lucas Schuneman
Louis Huang: Jordan Woollen
Bay: Daniel J. Edwards
Walter Irons: Greg Dulcie
Louis Machungo: Zeno Robinson
Enrique Oliveira: Rick Zieff
Job Trunicht: Dave Trosko
Alexandre Bewcock: Kent Williams
João Lebello: Michael Johnson
Pfeifer: Ben Balmaceda
Orlau: Tom Wayland
Drewentz: Mylo Reid
Lubitsch: Brad Smeaton
Asadora Chartian: Ryan Colt Levy
Fusseneger: August Sargenti
Rainer Blumhardt: Marcus Stimac
Patricken: P.M. Seymour
Alarcon: Richard Epcar
Lionel Morton: Marc Thompson

Reuenthal's Mother: Kira Buckland
Mittermeyer's Mother: Emily Frongillo
Mittermeyer's Father: Brent Mukai
Arrogant Imperial Soldier: Alex Bankier
Executioner: Jason Marnocha
Jail Guard: Rick Zieff
Waitress: Sena Bryer
Angered Noble: Matthew Curtis
De La Cour Patron A: Connor Colquhoun
De La Cour Patron B: Brendan Hunter
De La Cour Patron C: Griffin Puatu
Geiersburg Communications Officer: Chris Okawa
Brünhild Communications Officer: Griffin Puatu
Reinhard's Newest Admirals (Includes Eisenach, Steinmetz and Lennenkamp – no particular order): Chris Niosi, Connor Colquhoun, Brendan Hunter
TV Show Protagonist: Stuart Allen
TV Show Deuteragonist:  Marcus Rothenberg
TV Show Villain: Blythe Melin
Iserlohn Tactical Officers: Lee George, Krystal LaPorte, Matthew Curtis, Adam McArthur, Mike Ciporkin, Tom Schalk, Calvin Joyal
Female Reception Officer: Tamara Fritz
Müller Communications Officers: Matthew David Rudd, Ryan Hoyle
Nguyen's Adjutant: Ryan Hoyle
Grenadier Troop 19 Leader: Edwyn Tiong
Landing Force Commander: Jesse Inocalla
Lancer Spartanian Pilots: Joshua David King, Imari Williams, Austin Sisk
Reinforcement Fleet Communication Officer: Robb Moreira 

**From episode 28 until further notice, Aaron Dismuke will be voice matched by Matt Shipman due to vocal strain. We wish Aaron a swift and safe recovery!
---

Additional Voices:

Ben Balmaceda
Kevin D. Thelwell
Alex Mai
Kira Buckland
McKenzie Atwood
Jordan Dash Cruz
Michael Kovach
Luci Christian
Sena Bryer
Matthew Curtis
Deneen Melody
Brendan Hunter
Chris Okawa
Marcus Rothenberg
Stuart Allen
Mike Ciporkin
Ryan Hoyle
Adam McArthur
Edwyn Tiong
Joshua David King
Imari Williams
Jesse Nowack
Alex Bankier
Brent Mukai
Chris Niosi
Emily Frongillo
Brittany Lauda
Tom Schalk
Rick Zieff
Meli Grant
Jonah Scott
Kiba Walker
Connor Colquhoun
Griffin Puatu
Blythe Melin
Romulo Bernal
Calvin Joyal
Lee George
Mike Ciporkin
Calvin Joyal
Matthew David Rudd
Austin Sisk
Ryan Colt Levy
Anthony DiMascio